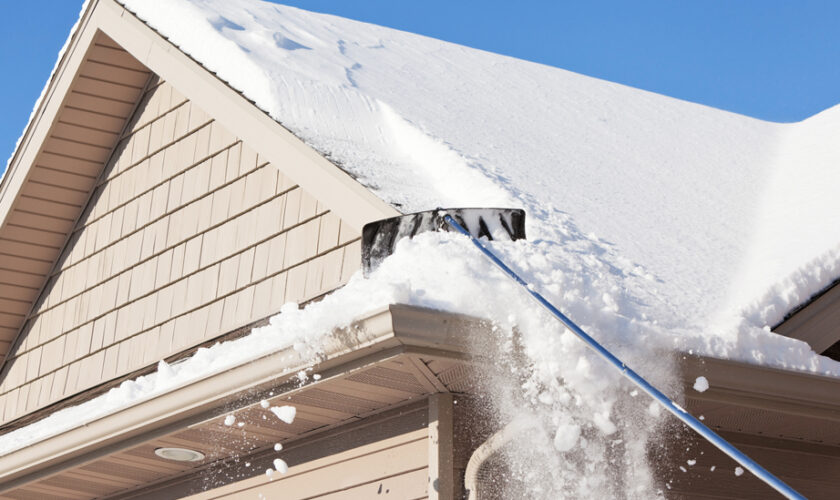 A huge aspect of protecting the structural integrity of a home would be to make sure that its roof is in a good condition. Ken Julian mentions that in order to protect the roofs, homeowners must try to explore ways to remove snow from its surface, once the worst of the winters hit. There are several dangers to letting snow accumulate to heavily or deeply on the rooftop. Removing the snow in a timely manner can prevent structural damage and ice caps. However, no matter whether a homeowner decides to hire a professional or have to tackle the job themselves, maintaining safety in the process is vital.
Homeowners should try to clear snow from their roof as fast as they can, and not wait till their roof is straining under the pressure. Ken Julian says as lower amount of snow would be easier and less strenuous to remove; people would have greater odds to complete the task efficiently.  A small amount of snow can be cleared off fast enough, thereby lowering the risk of accidents as well. Clearing the roof on a regular basis can be a good approach to maintain to prevent mishaps. However, before heading out to clear the snow off their roof, homeowners must check the weather. If there are any chances of cold and heavy winds on that day, then the last is better left for later. Bad weather conditions can increase the risk of frostbite.  Warm spells, on the other hand, would turn snow into ice, which may cause falls or even cuts.
Here are a few factors mentioned by Ken Julian that one must specially dwell upon when planning to remove snow from their roof:
Flat roofs and shallow pitches have greater risks for roof collapse and structural damage, and hence snow should be removed from them as fast as possible. This is due to the fact that snow sits on the same spot in such roofs and keeps on accumulating. Moreover, even when the snow melts, the water stays put and could freeze again on a flat roof, thereby adding more weight.
Snow density plays a major role in defining the amount of damage caused to the roof. Heavy, wet snow weighs way more than snowfall that is light, fluffy or powdery.
Snow hardly sits evenly on the roof. In many instances, winds shall push the snow in particular areas of the roof. For example, usually, snow ends up accumulating in the valley where two slopes meet or the area where the pitch meets an exterior wall.
A simple way to check for excess weight and stress on the roof would be to open the doors and open of a house. If they are suddenly difficult to open or close, or even feel jammed or stuck between the frames, then it might be an indication that snow putting a strain on the roof structure, and needs to be cleared off as soon as possible.