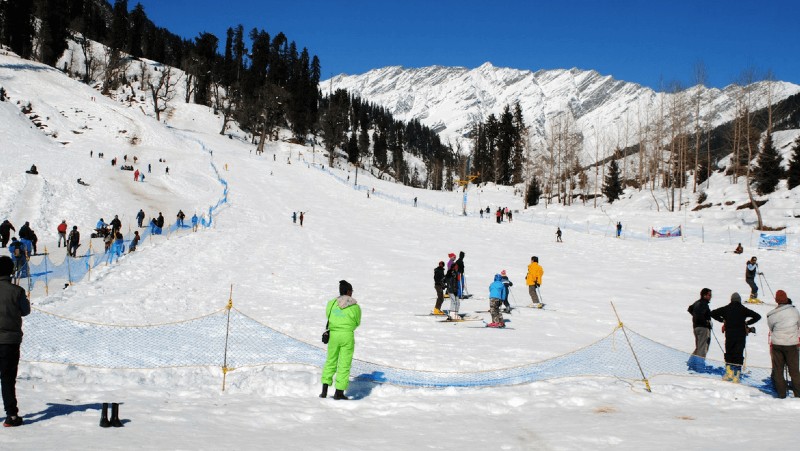 Himachal Pradesh is the land of the lofty Himalayan mountains that stand as a symbol of nature's best creation in the Indian subcontinent. Featuring picturesque views of snow-capped mountains, this North Indian state also presents lush greenery and a pleasant climate all throughout the year. Tourists from India as well as other parts of the world frequent Himachal Pradesh as it has a stronghold of many scenic locations. If you are someone who is fond of hill stations and admires nature, then exploring Himachal Pradesh would be the best thing for you to do. Thus, without wasting time, you should start packing up your winter apparel and book yourself into one of the best Himachal Pradesh hotels and explore the best landmarks that it has to offer.
Kufri
Tucked in the district of Shimla, Kufri is a beautiful resort hill station that was the earlier home to British India. Later transformed into a popular tourist spot, this place is notable among the trekkers. Kufri makes itself one of the ideal summer getaways from the bustling plains as it presents a cool and pleasant climate. Apart from featuring a historic charm and wonderful climate, Kufri also serves as a home to a wide range of flora and fauna. If you decide to go for a trip to Himachal Pradesh, then you should definitely make a one-day plan at Kufri.
Dalhousie
Dalhousie, a charming hill station located at Himachal Pradesh exhibits an aura of the bygone days. Known for its heritage British-style buildings that date back to the early 19th Century, this hill station is one of the best places to visit in Himachal Pradesh. Dalhousie is spread across five hills that offer an eye-catching view to the tourists. Here, you can visit the wildlife sanctuary that captivates various kinds of animals and birds along with touting trees. If you are a good wildlife photographer, then this place will be a paradise for you!
Spiti
An underrated gem nestled near the Himalayan ranges is the Spiti Valley. Lying as the middle land between India and Tibet, Spiti presents a topography of a snow-clad cold desert. Like all other Himachal Pradesh hill stations, Spiti Valley also features panoramic views of the mighty mountains along with the farthest scenery of verdant greens. Here, you can pay a visit to the different Buddhist destinations to awaken your spiritual self. While at Spiti Valley, make sure you click awe-inspiring pictures of yourself for an Insta-upload and make your social media followers envy your presence at this beautiful location.
Solang Valley
One of the pristine valleys of Himachal Pradesh is the Solang Valley. Tucked between Beas Kund and Solang village, this beautiful valley is considered to be one of the popular places to visit in North India. Tourists come to this place to experience the enchanting views of the mountains as well as to take part in different enthralling activities. If you have never experienced zorbing or paragliding, it's time that you put on the gear and experience the fun that Solan Valley will definitely deliver to you.
Dharamshala
Known as the home to the Dalai Lama, Dharamshala is one of the most famous tourist spots in the vicinity of Himachal Pradesh. Not only can you witness an amazing climate at this place but you can also encounter a mix of cultures. Here, at Dharamshala tourists can see a blend of Kangra and Tibet's way of life. Further, this hillside city features a spiritual centre for Tibetan Buddhism, The Thekchen Choling Temple Complex that is frequented by both locals and wanderers. So, if you are looking forward to spending some quality time in the mountains at peace, there is no greater place than Dharamshala.